---
The buffalo offers itself as my canvas. My own narrative is laid out in communion with the skull.

Each piece evidences a particular truth --truth between each stitch, each attachment of glue to paper, horn to fiber, bone to wire. However, the truth can be so elusive I do not see it until it arrives on the skull in front of me.

My intention is to honor each dead buffalo as an act of contrition. Not like a choice, but as a requirement for peace of mind. I am in the process of completing my penance: one hundred buffalo skulls. More discussion on this theme will be available in the book associated with this collection, to be published in 2019.

My current work is a response to several life changing events. In 2008 I cared for my brother the last three months of his life. He was one of my "twins." The second was a life threatening accident in 2015. These events forced a new vernacular - a different way to understand myself and to be understood.

Many pieces reflect the influence of my (retired) Catholic faith tradition. Collages contain images from 60's Treasure Chest, a Catholic-oriented comic book.
---
Verity Collection
---
INTEMPERANCE
Bison skull, polyurethane, bone china figurines, epoxy
25"x26"x11"
APOTROPAIC v1
Bison skull , epoxy resin, thorn tree branches, found objects, jute, baler twine, cotton/poly thread
30"x24"x17"
APOTROPAIC v2
Bison skull, wire, thread, twine, jute, straw, religious ephemera, found objects, guinea fowl feathers, black locust branches
35"x34"x6"
WOKE
Bison skull, recycled plastic bags, poly fiberfill, jute, twine, cotton/poly thread, produce netting, felted wool"Queenie"
29"x24"x15"
MU/TANT
Bison skull, recycled plastic bags, recycled poly fiberfill, jute, twine and cotton poly thread, burlap, raw sheepskin, produce netting, felted wool "Queenie"
22"x29"x11"
CONCESSION
Bison skull epoxy, vintage gloves and child's dress, baler twine, poly fiberfill, felt and galvanized wire
21"x26"x13"
NEST 19
Bison skull, bone China, enamel, vintage cattle tag, epoxy, burlap, straw, barbed wire, jute and cotton thread
33"x24"x14"
M.MORI
Bison skull bone, China, enamel paint, epoxy
30"x22"x11"
---
Installation of Verity
---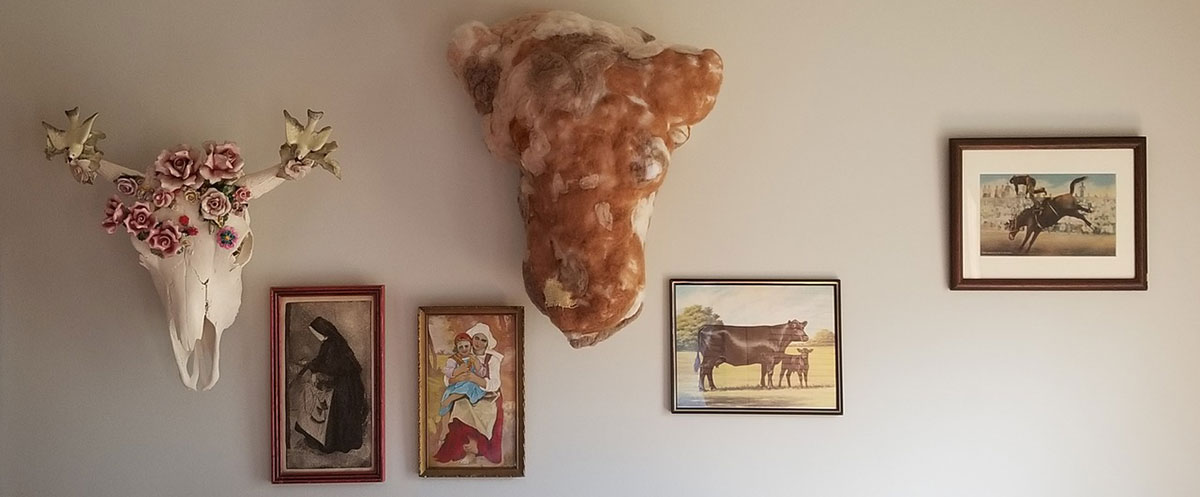 ---
Other Works
---
---
---
---